Post by Barry on Jun 2, 2008 21:48:22 GMT -5
Thescelosaurus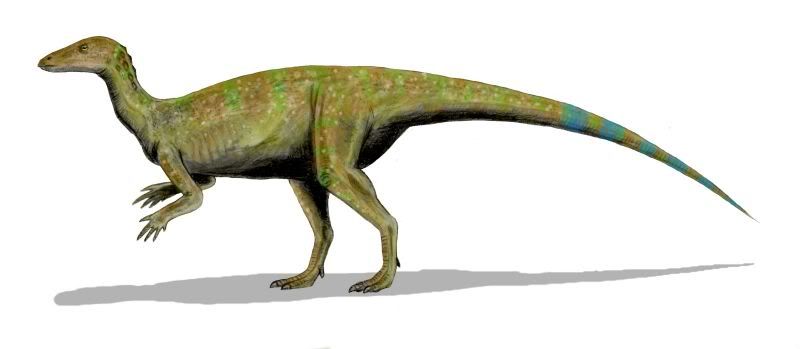 Image: ArthurWeasley
Thescelosaurus (from the Greek /thescelo- meaning "godlike", "marvelous", or "wondrous" and /saurus "lizard") was a genus of small ornithopod dinosaur that appeared at the very end of the Late Cretaceous period in North America, and was a member of the last dinosaurian fauna before the Cretaceous-Tertiary extinction event around 65.5 million years ago. The preservation and completeness of many of its specimens indicate that it may have preferred to live near streams.This bipedal ornithopod is known from several partial skeletons and skulls that indicate it grew to between 2.5 and 4.0 meters (8.2 to 13.1 feet) in length on average. It had sturdy hind limbs, small wide hands, a head with an elongate pointed snout, and possibly small armor scutes along the midline of the back. This genus of dinosaur is regarded as a specialized hypsilophodont and a herbivore. Several species have been suggested for this genus, but only one, T. neglectus, is currently recognized; the others have been given their own genera, or are believed to be the same as T. neglectus (although there may be more than one species represented by the various fossils classified as Thescelosaurus.)The genus attracted media attention in 2000, when a specimen unearthed in 1993 in South Dakota was interpreted as including a fossilized heart. There was much discussion over whether the remains were actually of a heart. Many scientists now doubt the identification of the object and the implications of such an identification.
Description
Thescelosaurus was a heavily-built bipedal animal, probably herbivorous, but possibly omnivorous. It would have browsed in the first meter or so from the ground, feeding selectively, with food held in the mouth by cheeks while chewing. Aside from the long narrow beak, the skull also had teeth in the premaxilla, or upper beak (a primitive trait among ornithopods), and long rod-like bones called palpebrals over the eyes, giving it heavy bony eyebrows. Its teeth were of two types: small pointed premaxillary teeth, and leaf-shaped cheek teeth. The exact number of teeth is unknown, as complete jaws have not been described.It had short, broad, five-fingered hands, four-toed feet with hoof-like toe tips, and a long tail braced by ossified tendons from the middle back to the tip, which would have reduced the flexibility of the tail. The rib cage was broad, giving it a wide back, and the limbs were robust. This animal may have been able to move on all fours, given its fairly long arms and wide hands, but this idea has not been followed up in the scientific literature (although it does appear in popular works).Charles M. Sternberg reconstructed it with the upper arm sticking out almost perpendicular to the body, another idea that has gone by the wayside. Thescelosaurus was probably slower than other hypsilophodonts, because of its heavier build and leg structure. Compared to them, it had unusual hindlimbs, because the upper leg is longer than the shin, the opposite of Hypsilophodon and running animals in general. One specimen is known to have had a bone pathology, with the long bones of the right foot fused at their tops, hindering swift movement.Large thin flat bony plates similar to those in Talenkauen have been found next to the ribs' sides. Their function is unknown; they may have played a role in respiration. The nature of this species' integument, be it scales or something else, is currently unknown, although potential evidence is known; Charles Gilmore described patches of carbonized material near the shoulders as possible epidermis, with a "punctured" texture but no regular pattern, and William J. Morris suggested that armor was present, in the form of small scutes present at least along the midline of the neck.Overall, the skeletal anatomy of this genus is well-documented (except for the head), and restorations have been published in several papers, including skeletal restorations and models. The skeleton is known well enough that a detailed reconstruction of the hip and hindlimb muscles has been made. The animal's size has been estimated in the 2.5–4.0 m range for length (8.2–13.1 ft) for various specimens, and a weight of 200–300 kilograms (450–660 pounds).[16] As discussed more fully under "Discovery, history, and species", it may have been sexually dimorphic, with one sex larger than the other. Juvenile remains are known from several locations, mostly based on teeth.
Classification
Thescelosaurus has generally been allied to Hypsilophodon and other small ornithopods as a hypsilophodontid, although recognized as being distinct among them for its robust build, unusual hindlimbs, and, more recently, its unusually long skull. Peter Galton in 1974 presented one twist to the classic arrangement, suggesting that because of its hindlimb structure and heavy build (not cursorial, or built for running, by his definition), it should be included in the Iguanodontidae. This has not been followed, with Morris arguing strongly against Galton's classification scheme. At any rate, Galton's Iguanodontidae was not a natural group due to polyphyly, and so would not be recognized under modern cladistic usage.Although little tested by cladistics, it is currently thought that Bugenasaura and Thescelosaurus are closely related, or that Thescelosaurus belongs in its own family or subfamily, Thescelosauridae or Thescelosaurinae. Two recent studies have found it to be a close relative of Parksosaurus, although neither named a specific clade, and one of the studies (Norman et al., 2004) is difficult to interpret because it did not include Iguanodontia in its diagrams. This area of the dinosaur family tree is complicated by a lack of research, with some papers finding Hypsilophodontidae to be a natural group, and others finding it to be a unnatural family leading into Iguanodontia (paraphyly). The "natural group" hypothesis has been falling out of favor since the mid to late 1990s, and thus a paraphyletic Hypsilophodontidae is shown here. Oddly, Thescelosaurus has been regarded as both very basal and very derived among the hypsilophodonts. One issue specifically concerning Thescelosaurus is that not all of the remains assigned to T. neglectus necessarily belong to it.
Discovery, history, and species
The type specimen of Thescelosaurus (USNM 7757) was discovered in 1891 by paleontologists John Bell Hatcher and William H. Utterback, from beds of the late Maastrichtian-age Upper Cretaceous Lance Formation of Niobrara County, Wyoming, USA. The skeleton, however, remained in its shipping crates for years until Charles W. Gilmore of the Smithsonian Institution' National Museum of Natural History had it prepared and described it in a short paper in 1913, naming it T. neglectus (neglectus: "neglected"). At the time, he thought it was related to Camptosaurus. He provided a detailed monograph in 1915, describing the well-preserved skeleton. The type specimen was found largely in natural articulation and was missing only the head and neck, which were lost due to erosion. The name comes from the surprise Gilmore felt at finding such a good specimen that had been unattended to for so long. He considered it to be a light, agile creature, and assigned it to the Hypsilophodontidae, a family of small bipedal dinosaurs.Other remains of similar animals were found throughout the late 1800s and 1900s, although they didn't receive much attention. Another well-preserved skeleton from the slightly older Horseshoe Canyon Formation, in Alberta, Canada, was named T. warreni by William Parks in 1926. This skeleton had notable differences from T. neglectus, and so Charles M. Sternberg placed it in a new genus, Parksosaurus, in 1937. Sternberg also named an additional species, T. edmontonensis, based on another articulated skeleton, this time including a partial skull (NMC 8537), and drew attention to the genus' heavy build and thick bones; due to these differences from the regular light hypsilophodont build, he suggested that the genus warranted its own subfamily, Thescelosaurinae. T. edmontonensis has, since Peter Galton's 1974 review, generally been considered a more robust individual (possibly the opposite sex of the type individual) of T. neglectus. The only sticking point has been the ankle of T. edmontonensis, which Galton claimed was damaged and misinterpreted, but which was accepted by William J. Morris (1976) as truly different from T. neglectus.In his paper, Morris described a partial skull with heavy ridges on the lower jaw and cheek (SDSM 7210) as an unidentified species of Thescelosaurus, from the late Maastrichtian-age Hell Creek Formation of Harding County, South Dakota, USA. This skull was recognized as an unnamed hypsilophodont for many years, until Galton assigned it the name Bugenasaura infernalis. Morris also named a new species, on the basis of vertebrae and limb remains (LACM 33542) from the Hell Creek Formation of Garfield County, Montana, USA: T. garbanii. T. garbanii would have been about 4.5 m long (15 feet), larger than average specimens of T. neglectus. Because Morris believed that the ankles of T. garbanii compared favorably to those of T. edmontonensis, he assigned it to Thescelosaurus. However, the scientific literature has favored Galton's view that T. edmontonensis was not different from T. neglectus (see above). To better accommodate this species, Galton in 1995 suggested that it belonged to his new genus Bugenasaura as B. garbanii (although noting that it could also be a leg of the similarly sized pachycephalosaurid Stygimoloch). As a result, only one valid species of Thescelosaurus is currently recognized: T. neglectus. More study, though, could again split the known material into two or more species.
Copyright © 2008 Answers Corporation. All rights reserved.